Being organized is really important for crafters. Here are some of my tips
Fabric . . .
When I buy fabric, I always try to take a quick picture of the wash instructions. When I get home, I write down how much fabric I bought, what it is, and wash instructions on a little pieces of paper and pin it to my fabric. Additionally, if I have a pattern in mind for the fabric, I'll write that down, too. That way, when I get to it, I can remember what it was that I was dreaming of doing with it :D Large amounts of fabric are folded and stacked. All small amounts of fabric are folded and stuffed into two little bins
Notions . . .
I have three boxes. I don't mean huge boxes, I mean small, cute boxes. One box contains all of my trims: bias tape, hem tape, lace hem tape, piping, and ribbon, (except for the laces of which I have very large amounts, those are on large spools and live with my fabric). My next box is the box you can remember from this post, contains all of my buttons, snaps, eyes, hooks, eyelets, and elastic. My last box is my actual sewing box. It contains all of my threads, bobbins, presser feet, needles, pins, etc etc. When I go anywhere for sewing lessons and all, I take this last box.
Buying Patterns . . .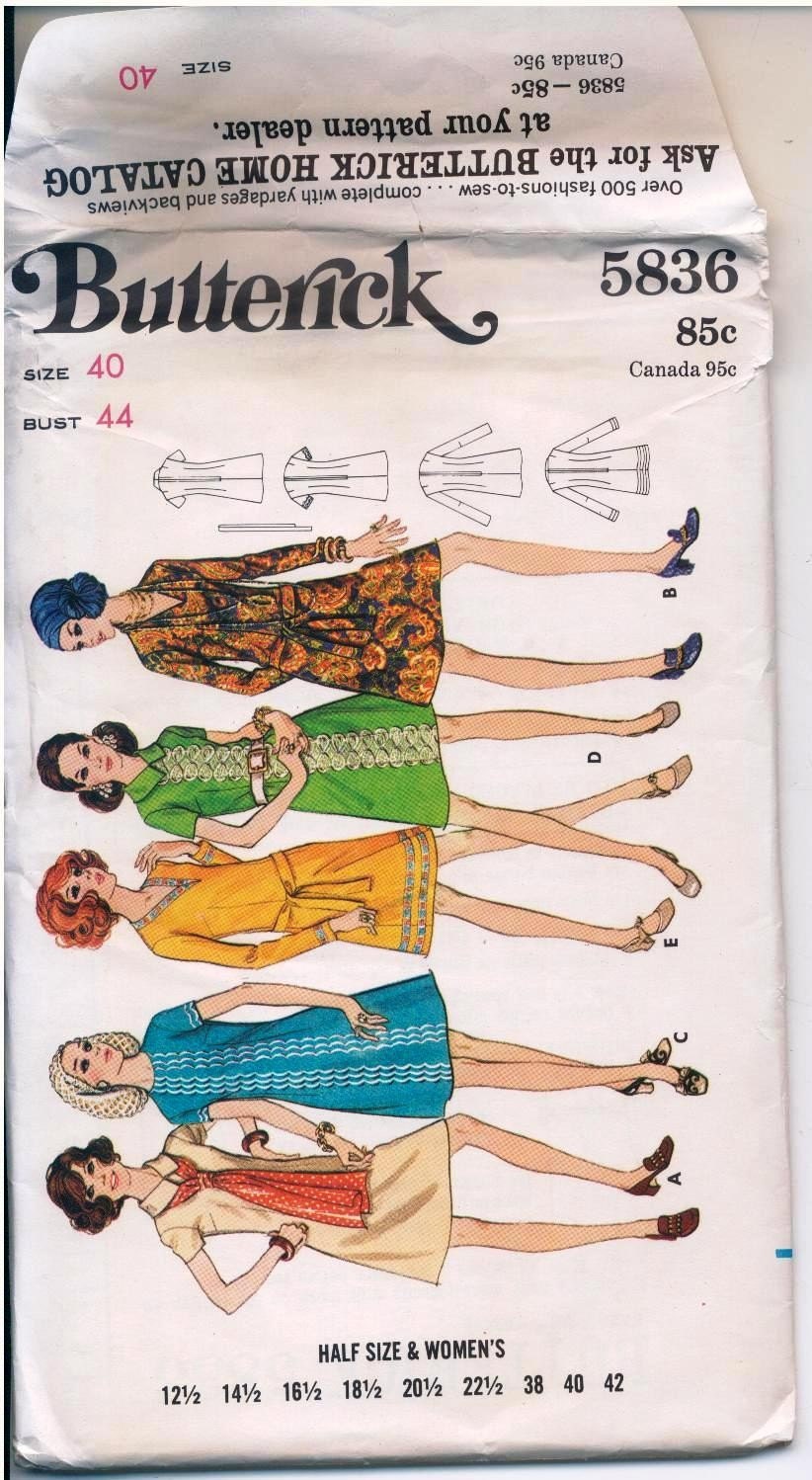 Vintage Patterns-
So, I recently placed an order for two vintage jumper style dresses from etsy. When I was placing the purchase, I also considered buying this dress from the vendor. My heart was saying 'it's only three dollars GET IT!!!!' and then my brain was saying 'It's a size too small... anyways, don't you have a pattern that has the same shape/darts/sleeves/collar/etc??'
The pattern I wanted to buy ---------->
The pattern I own. In a size 42, bust 46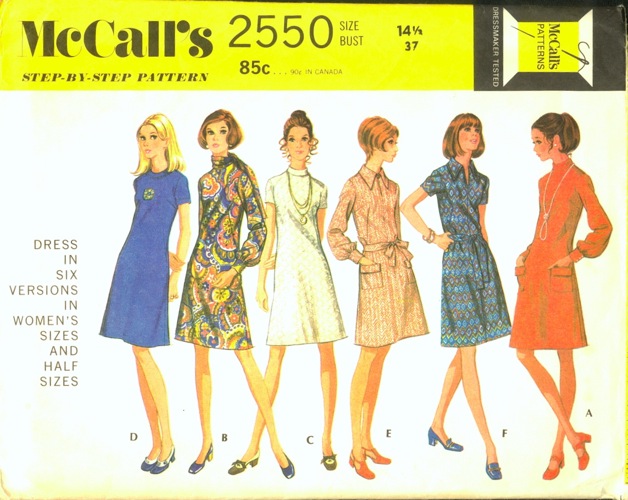 Do you see what I mean? Anything that the Butterick contains that the McCall's doesn't, I don't need a pattern for. So, Even though it's only three dollars, I don't need the Butterick pattern.
This is where organization comes in handy. I have ALL of my sewing patterns (including the vintage ones I picked up for 10cents that totally could never fit me, but I thought they were cool looking) on a pinterest board. For most of them, I pulled scanned pictures from various places all over the internet. For the ones I couldn't google pictures for, I took pictures with my phone. For all of the retro patterns, I've included the size info. This means that i didn't even have to pull out my bin of patterns and pick through them to figure out whether or not I really did have an very similar pattern already. I quick scan through my pinterest board let me see that I definitely do already have a pattern like the Butterick pattern.
I also have a wishlist board for patterns I like and wouldn't mind owning. I only started this board a week ago, so there's not much on it yet. ha! We'll get there, though. The board includes a lot of current patterns, too, which brings me to the other half of buying patterns.
In-Print Patterns -
Except for New Look patterns (which are $4/each), I don't pay full price for patterns. Simplicity and McCall's patterns will often go on sale 5 for 5 at Joann and Hancock Fabrics. Butterick patterns normally go on sale for $1.99/each and Vogue patterns occasionally go on sale for $3.99/each. A lot of people think that sewing is going to be cheaper than buying ready to wear. That's not true. However, you should definitely try to save yourself some money by purchasing your patterns on sale. I normally keep a running list of patterns I like and I'll buy them all when they're on sale.
Storing Patterns . . .
Purchased Patterns -
My patterns live in two bins like this one. This bin is my "for me" patterns. This includes all of my in print patterns that I purchased for me, all of my vintage patterns that are my size, and all of the vintage patterns that aren't my size but I love them and might grade them out for myself one day haa. The other bin includes: childrens patterns and vintage patterns which are way to small to grade out, but they were cool so I bought them.
Internet and Self Drafted Patterns -
So, for patterns which did not come with an envelope, I store them in envelopes I make from scrapbooking paper (12x12). This includes patterns I printed, patterns I had to draft from internet tutorials, patterns I came up with myself, and patterns made from copying other clothing items.
So, take your paper and fold it in half twice in order to establish the center point. Then, fold two opposite corners in.
Fold the bottom edge up, about an inch and a half past the center. Fold down top the same way, I winged it with the bottom and then folded the top to match.
And there you have it. All of my envelopes are about the size of a McCall's envelope, and they fit all of my pattern pieces beautifully :)
So, that's how I stay organized. Honestly, putting all of my self drafted patterns into these little envelopes was one of the best things I've ever done for my sewing organization. I have drafted the same cardigan from t-shirt pattern twice because I forgot that I had made a full pattern for it previously. Now, all of my patterns live in envelopes.
:)